14th March 2023
Youth violence charity wins top UK health award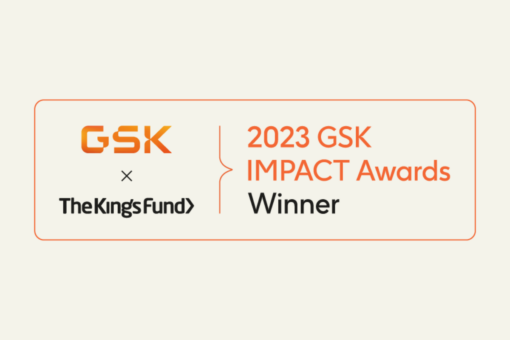 The charity runs sessions across the UK teaching young people what to do if someone is bleeding or knocked unconscious, as well as supporting young people to understand the consequences of serious violence.
Following a rigorous selection and assessment process, StreetDoctors was chosen from more than 400 charities across the UK as one of the 10 winners of the 2023 GSK IMPACT Awards which are delivered in partnership with leading health and care charity The King's Fund. Now in their 26th year, the awards are a mark of excellence in the charity sector, designed to recognise the outstanding work of small and medium-sized charities working to improve people's health and wellbeing in the UK. This year winners will receive £40,000 in unrestricted funding as well as expert support and leadership development provided by The King's Fund. 
StreetDoctors was set up in 2008 by a group of medical students in Liverpool. The charity gives young people aged 11-25 the first aid skills to save the life of a victim of violence or knife crime. The charity also supports young people to understand the devastating medical and psychological consequences of violence.
Knife crime affects all parts of the UK. In the year ending March 2022, there were nearly 20,000 convictions given for knife offences, 15% were given to people under 17; 282 people were stabbed to death and the number of victims aged 16 to 17 doubled. In Manchester, serious violence has increased by 200% since 2019. StreetDoctors focuses its work in areas with high levels of deprivation and the charity estimates that 73% of the young people it works with have experienced street violence by the age of 18. In some major cities, including Leicester, Liverpool and Manchester, the charity works with the regional Violence Reduction Units to support local efforts to reduce youth violence.
The Award judges were particularly struck by StreetDoctors' 'Reducing Violence' programme. The charity has recruited nearly 500 volunteer medical students to deliver emergency first aid training to young people affected by youth violence. The service runs in 18 cities around the UK. StreetDoctors partners with local youth agencies to fund and deliver the training, and also works closely with schools, pupil referral units, sports clubs and the youth criminal justice sector. Since StreetDoctors became a charity in 2013 they have trained over 25,000 young people in emergency first aid skills.
As well as providing life-saving skills, the charity also runs an 8-week programme which enables young people affected by violence to learn how they can train others in emergency lifesaving skills. The programme, 'Stepwise' also supports young people to explore possible career paths in health care.
The award win comes at a time when many charities find themselves working in a uniquely challenging environment. The long-term consequences of Covid and the current cost of living crisis are having a significant impact on the health and wellbeing of many local communities, public services are under additional pressure, and charity finances have been hit hard. Having initially grown rapidly, the pandemic was particularly challenging for StreetDoctors, given many of its volunteers had to focus on their roles in the NHS and the charity had to move training online due to Covid restrictions.
Despite this, StreetDoctors continues to innovate and expand its reach. In 2021 it recruited its first volunteer team in Belfast, cementing its presence across the four nations of the UK. Last year the charity also developed an app-based version of its Reducing Violence programme which is used in a wide range of settings, including young offender institutions.
Katie Pinnock, Director of UK Charitable Partnerships, GSK, said: "Street Doctors has developed a unique approach to tackling the devastating impacts of youth violence and knife crime, by empowering young people affected by violence to keep themselves and others safe. The Award Judges were particularly impressed by how this small charity had mobilised nearly 500 volunteers from the medical community to deliver life-saving first aid training, as well as encouraging young people to also teach these skills. Its services have wide reach across the UK, targeted at the communities and areas most affected by violent crime." 
Commenting on the award, Lucie Russell, CEO of StreetDoctors, said: "We are absolutely thrilled and humbled to win this prestigious award. This will add even greater recognition to our vital work supporting young people affected by street violence. The award will enable us to further achieve our mission to reduce street violence and its impacts by reaching more young people who need our training, continuing to build our movement of young healthcare volunteers and develop our programme content."
Developing leaders in the charity sector is a key aim of the GSK IMPACT Awards programme and all winners are invited to build on their success and take part in a tailored leadership development programme run by The King's Fund.