Fundraise for us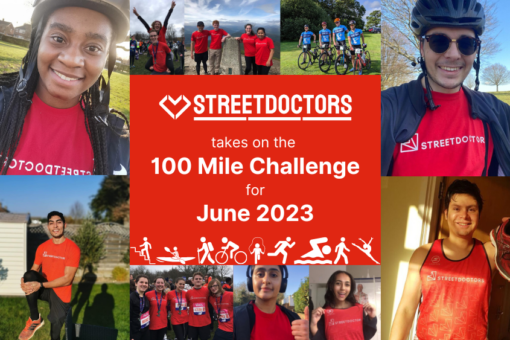 We're doing the 100 Miles Challenge this June 2023!
Every single donation helps us save valuable lives – by empowering young people affected by violence with emergency first aid skills and lifesaving knowledge.
Get involved by:
Running, walking, swimming or being active in which ever way you chose
Tracking your miles as an individual or as part of a team
Get sponsorship for completing the challenge!
Tag @streetdoctors in your social media posts when you share about your achievements
To set up your fundraising page visit our 100 Miles Challenge Just Giving page below and click 'start fundraising'.
Other ideas for fundraising:
First, set up your Justgiving page.
Second, choose your activity. You could run:
sponsored events like fun runs or sports competitions
group activities like hosting a quiz night
fun skills-sharing events like running a cocktail making class
Third, tell us what you're up to! Email our Fundraising Manager Gerard Mitchell at fundraising@streetdoctors.org and tag us on social media @streetdoctors.
Quote
Yeah, it's given me self-confidence. After this if I see someone on the road [that] needs help, I could apply everything I've learnt towards them and help them. I've taught my little brother, yeah. I've taught my mum as well.

Young person, West London Youth Centre