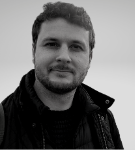 I manage StreetDoctors fundraising, including all the grants and donations which enable us to provide all our services. It involves lots of planning, budgets, and requests for support. Donating really makes a huge difference – with such a small organisation it means your money goes directly to the services we provide for young people – so if you donate right now it would be amazing and make everyone here so happy! Thank you!
Why StreetDoctors?
The positivity of the message is what struck me about StreetDoctors, and the dynamic attitude of the organisation. The charity is truly committed to putting young people at the centre of the solution and that is why it is so successful.
Background
I joined StreetDoctors in 2020 after a decade working in homelessness, housing, and immigration advice fundraising.
Outside of StreetDoctors
I love to cook and eat, which is a good combination I think.
Contact Gerard