12th June 2023
StreetDoctors Appoints Nick Maughan as Patron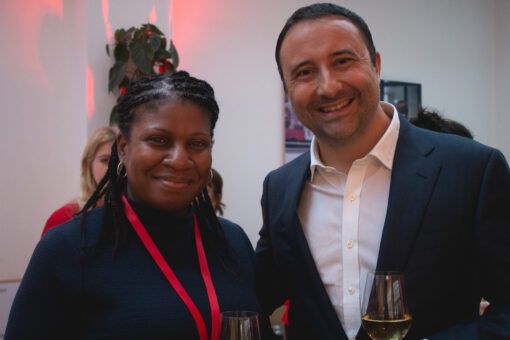 Founded in 2008 in Liverpool, StreetDoctors trains young people affected by violence in how to save lives by providing emergency first aid at the scene of a violent attack and increases their understanding of the consequences of violence. Their training enables young people to become part of the solution to youth violence, rather than just being seen as 'part of the problem'.
Nick Maughan is pictured above, right, with StreetDoctors Trustee Dr Shola Apena Rogers at StreetDoctors 10th Anniversary Celebration Evening.
Nick Maughan, Founder of the Nick Maughan Foundation commented on the announcement: "I am honoured to have been asked to be the Patron of StreetDoctors. StreetDoctors is a remarkable charity which saves countless lives. Youth violence is one of the most pressing social issues in the U.K. today and StreetDoctors provides young people with the tools to act as first responders in emergencies, empowering them to keep themselves and others safe."
Lucie Russell, CEO of StreetDoctors, said: "We are absolutely thrilled that Nick has agreed to become our patron. This is a very significant moment in the history of StreetDoctors; bringing together a highly successful British philanthropist, who is also a Co-Founder of a highly impactful youth empowerment social enterprise, with our multi award winning violence reducing charity. Our values align in so many ways, most importantly in our shared belief in the potential of young people who are so often locked out of opportunities to grow and develop, only because of the contexts they are growing up in. Through this fantastic opportunity to become closer to both Nick, and Boxwise, we will empower many more young people by working together to change the trajectories of their lives."
The training is delivered by a movement of young healthcare volunteers (nurses, paramedics, and trainee doctors) who work in partnership with criminal justice services, schools, pupil referral units, youth, sports and community groups. Turning young people from bystanders into active responders by knowing how to act if someone has been stabbed or knocked out, they are also taught about the physical and psychological consequences of street violence.
Since 2013, StreetDoctors has trained 25,000 young people in life-saving skills across 18 cities in the UK. After a StreetDoctors session, 96% of young people say they understand the consequences of violence, 93% know what to do if someone is bleeding, and 83% are willing and able to act in a medical emergency.
StreetDoctors is a partner to BoxWise – the flagship initiative of the Nick Maughan Foundation (NMF) – a not-for-profit social enterprise aiming to help vulnerable young people to make successful transitions to adulthood. This patronage will foster closer collaboration between StreetDoctors, BoxWise and NMF in their joint mission to combat the scourge of knife crime across the UK.
Maughan added: "I've been hugely impressed with the team at Street Doctors, having worked with them first hand through their training of many of the young people at BoxWise, I am pleased to have the opportunity to bring them closer to the orbit of my foundation and to do all I can to assist them in this critical work."
Nick Maughan is a British philanthropist, investor, and founder of the Nick Maughan Foundation. He supports a number of charity and business enterprises across sports, environment and technological innovation.
The Nick Maughan Foundation was established in 2020 to further a range of philanthropic initiatives in the spheres of education, the environment and community. The Foundation supports community projects both in the United Kingdom and worldwide. 
BoxWise is a UK-based non-profit social enterprise based around boxing, which aims to help young people to build confidence, improve their health and wellbeing and maximise all opportunities available to them. Founded by Nick Maughan and Rick Ogden at the end of 2020, BoxWise now has 42 venues across the UK with over 1,000 young people having completed the programme each year.