26th May 2021
Why StreetDoctors localised response to violence is more important than ever for communities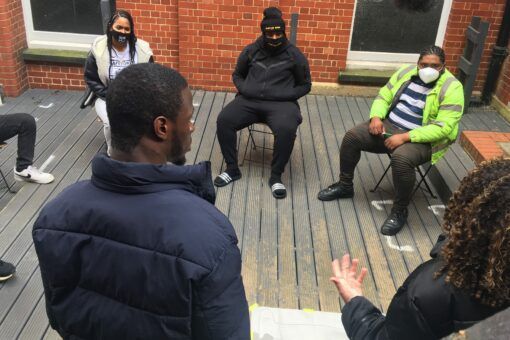 Throughout the COVID-19 pandemic, StreetDoctors has been working in collaboration with hyper-local community initiatives in Croydon, SafeZone and Croydon Community Leaders (CCL), to provide a community response which empowers young people affected by violence to keep themselves and others safe.
Having StreetDoctors training in our community changes lives

Renee, Croydon Community Leaders
In 2020, 73 lives were lost due to knife crime in London, that's 1 in every 5 days.* Croydon, with a larger population and more young people than any other London borough, has an increasingly high level of youth violence. In just one night in February 2021, one man died and the police reported another nine stabbings.** A young person told us that,
"[Because of] the area we live in, it's something that we can't stop."
StreetDoctors works in partnership with a host of different youth providers, because we believe in the effectiveness of working alongside grassroots organisations to provide meaningful approaches to violence reduction. Sarah Bloxham, StreetDoctors Partnerships Manager, explains:
"This holistic approach is essential. Grassroots organisations are in the spaces that young people are, and so we are engaging with them on the terms that they want to."
Last month, CCL and SafeZone set a target to train 100 local young people in StreetDoctors digital emergency first-aid session 'What to do if someone is bleeding?' in which young people learn how to call an ambulance, apply pressure and stem blood loss until medical help arrives. They are on track to meet this target and, with waitlists for each session, demand is on the rise.
Check out StreetDoctors latest campaign '8 Minutes to Save a Life' here.
Following a session in South Norwood last week, one young person explained that,
"Having StreetDoctors in the community changes lives … by teaching people how to save lives, we are going to have less deaths."
Knife crime destroys communities and, in order to reach the young people impacted by it, a localised approach is essential. As Renee from CCL describes:
"It's all about empowering the community and StreetDoctors allows us to do that."
With special thanks to Orbis, who through their financial support have enabled StreetDoctors to carry out its ongoing work in South London.
Our grassroots work across the country would not be possible without the commitment of our funders. Please donate here to support our vital work.
Croydon Community Leaders bring organisations together 'working on projects to help improve the lives of others and involve the local community to issues that matter to them'. (Find out more here).
The SafeZone initiative "aims to empower local businesses to take constructive action in the event of a knife incident". (Find out more here).
Refs:
* Met Police, https://www.hardcallssavelives.co.uk/SysSiteAssets/assets/hard-calls-save-lives-partner-toolkit-preview ** Inside Croydon https://insidecroydon.com/2021/02/06/one-dead-and-10-stabbings-in-croydon-night-of-savagery/