5th May 2016
Making the best of a bad situation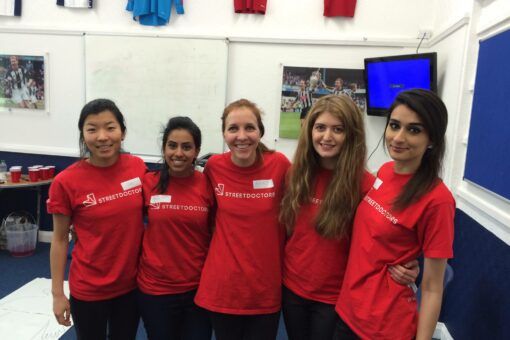 Let me set the scene for you. Two other volunteers and I had arrived at a teaching centre and set up a Cardio-pulmonary resuscitation (CPR) session for 9 young people. The young people were well engaged with us and seemed to be really enjoying the session, especially when we broke off into smaller groups to give one-to-one feedback on CPR technique using the Annie dummies, and all was going well.
It was as normal a session as any, until a youth worker came into the room and took me and the two other volunteers aside. Two people had been shot outside the youth centre. All the young people needed to be escorted upstairs for their safety. No one was allowed to leave until the police had secured the area.
It was terrifying, I won't lie about that. Having come from a quiet town, I had never been in a situation like this, and for the first time I realised the gravity of gun violence. We set about helping in any way we could, and first that involved taking all the young people in the centre to the sports hall upstairs, away from gunfire.
But how were the young people feeling about it all? Some looked scared, others seemed to ignore it, a couple of them tried to shake off their fear by joking about the situation. But StreetDoctors has taught me that pride is of utmost importance to young people, so even if none of them wanted to appear scared (for fear of appearing "pathetic"), the atmosphere had definitely changed. Everyone was on edge.
Then, as we looked around the sports hall, a chilling fact hit me. Any of these youths could have been one of the victims. They could have been caught in crossfire. They could have been fatally injured. And I wasn't the only one thinking these thoughts – there were young people worried in case their friends or family had been involved.
Youth violence and gun crime seemed to be the norm for these young people, and talking to them revealed that a few had witnessed such incidents in person, even though they were barely teenagers. That is when we, as volunteers realised: these were the young people who needed StreetDoctors teaching the most. And what better way to help them understand the impact of youth violence than the very situation we were in right now?
Therefore, we decided to set up an impromptu teaching session, covering the basics of both bleeding control and CPR, in a side room off of the sports hall. Around 25 young people managed to squeeze in as we summarised the main organs of the body, how to control bleeding and a demonstration on chest compressions. They paid attention throughout our whistle-stop tour of first aid and were very engaged, asking a lot of questions at the end. It seemed like the current situation had really hammered home the importance of the skills we were teaching them.
StreetDoctors is a unique charity, in that it really has the power to make a massive difference to young people and youth violence as a whole. By interacting with young people in small groups, we can change their attitudes to violence and equip them with skills to save a life. Although it was not a full session, I'm very glad we managed to turn a scary situation (for both us and the young people!!) into a positive learning experience for everyone.
Nikita Maria (StreetDoctors Birmingham volunteer and medical student at the University of Birmingham)